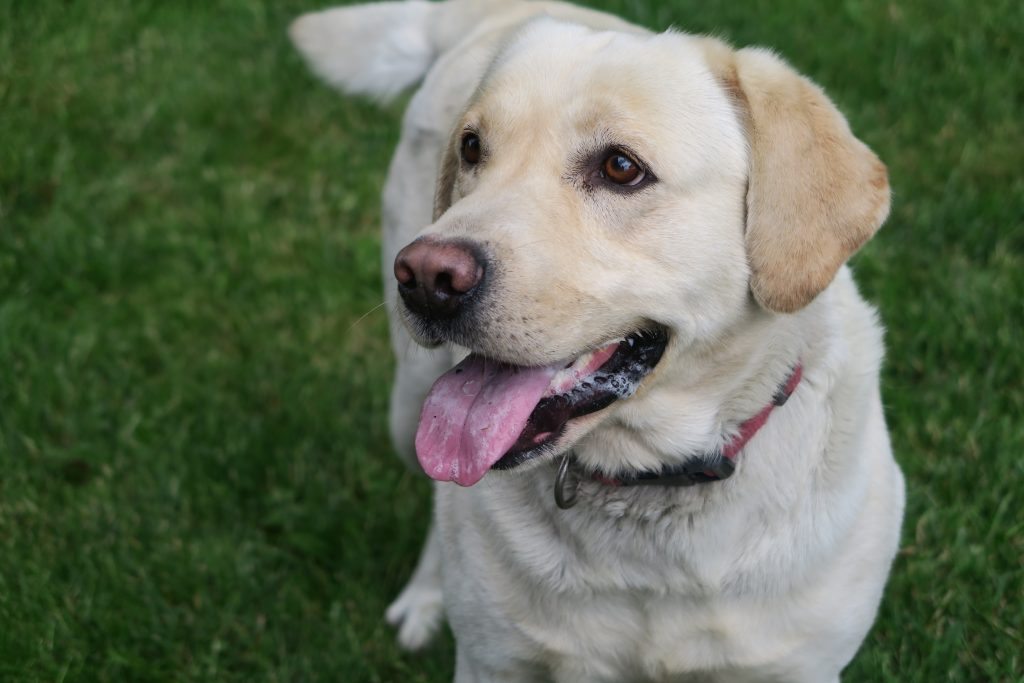 Over the weekend, I went for a run as I often do. I time myself for every single run and I generally run the same route each time. Some might consider that boring, but I do it because it gives me a number to shoot for. If I run different routes, I can't compete with myself to try to beat my best time. If you think that's silly, I totally respect that. But all I did growing up was play sports, so competing (even against myself) is a favorite past time I get to relive again and again doing it this way.
Anyhow, at the halfway point of my run, I was on pace to set a personal best which come rarely these days. But I was feeling good, so I thought I'd make my number and I was excited about that.
Then, right as I was hitting 3/4 of the way home, a woman was standing in the parking lot of a church I pass looking frantic. She quickly stopped me to ask if I had seen a white Labrador. I said no and kept running, glancing selfishly at my watch to see if I could still make my time. Still on pace.
I ran about 300 more yards before looking to my left to see a white lab in a person's yard. I quickly stopped to inquire as to whether that was his white lab. He said it wasn't. As soon as he said no, I knew my personal best didn't matter anymore.
I asked the man to hang on to the pup and I'd run back to let the lady know. So, I ran back to the frantic woman to let her know we'd located her dog. Her immediate response was to ask, "Is he injured?" I assured her that her pup was okay and she ran with me over to where the friendly neighbor was keeping the dog. Crisis averted.
Why tell this story? I spend a lot of time creating plans for people. Plans that hopefully provide a high probability of helping clients achieve their retirement goals - helping them to achieve their personal best - however they define it.
But life doesn't always go according to plan.
We or our spouse gets sick and/or passes away unexpectedly. Our children or grandchildren need our help in some fashion. Any of those events amongst many others can be frightening. Invariably, the way you've envisioned spending your retirement years may now be set for a significant pivot.
The financial and life plan that was so artfully and carefully created to guide you through life is now defunct. Even if you've properly planned for life's what-ifs, nobody thinks it will happen to them. But life is messy.
Sometimes there is no way to plan for these types of things. I've seen a retired couple that ended up having a special needs grandson and felt called to spend most of their time and money to care for him. They obviously could not have seen that in advance, but it was special and life-changing in many ways. That family was thankful for the opportunity to help and wouldn't have wanted to spend their retirement any other way either.
No matter how tough things can sometimes get, we cannot always understand why life throws at us whatever it decides to throw at us. We just have to roll with the punches and hope we have the fortitude to keep standing up again. Life is sad sometimes and sometimes it flat-out sucks.
When my grandfather was sick - something I never thought would happen to a man that was larger than life - he struggled mightily. I know he would have much rather gone peacefully into the night. But it was life-changing to me in that it offered me the opportunity to care for a man that so long had cared for me. It offered me lessons in humility and allowed me to hear stories I'd heard so many times before told one last time in his voice - at least as much as he could muster.
Had I known in advance, I certainly wouldn't have chosen suffering for him, but I am thankful for the opportunities that came out of it. Life is messy. It's amazingly difficult to see as we go through our struggles, but if your plan is going awry, here's to hoping you find a rose in the thorns.